The pictorial universe of Kukuxumusu is emblazoned on countless sweatshirts and T-shirts across the length and breadth of Spain. A blue bull with yellow horns and a sheep with bulging eyes and protruding ears are just two of the main characters of that universe, whose creators have managed to depict everyday situations in a humorous and highly distinctive fashion using anthropomorphic animals.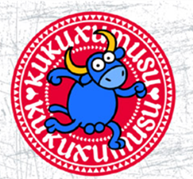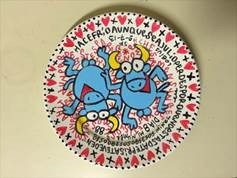 Kukuxumusu, a term which means "flea's kiss" in Basque, came about in 1989 as a small-scale project among three friends with a talent for drawing and a great deal of imagination.  Although they started out selling T-shirts, their growth over the years has been so great that the distinctive characters inhabiting the "Kukuxumusu universe" can now be found on every object imaginable, from bottles and bibs to pill boxes, umbrellas, socks and even Facebook stickers.
At the end of 2015, one of the company's founders, its artistic director Mikel Urmeneta, broke away and embarked on a new solo project. Under the name Katuki Saguyaki (meaning "cat meat, delicacy of mice"), the former partner set up a graphic design business essentially for clothing.  It appears that many of the designs that make up the collections of the Katuki Saguyaki project bore a strong resemblance to the original Kukuxumusu designs, the rights in which were left in the hands of the company after Urmeneta's departure. This prompted Kukuxumusu to bring proceedings against Mikel Urmeneta and his partners for copyright infringement.
As is usually the case where plagiarism is concerned, the outcome of the action hinges almost entirely on expert evidence. The plaintiff must prove that the plagiaristic drawings take original elements from its own designs to the extent that they are substantially similar. Meanwhile, the defendants have to demonstrate that the similarities between the creations lie in unoriginal elements that are not eligible for individual protection, such as the style or theme.
In light of the parties' arguments, but particularly based on the expert analysis of the works at issue, the court considered that Kukuxumusu's copyright had been infringed, since the defendants' drawings, regardless of the identical style and technique, reproduced and transformed specific works without the plaintiff's consent.
The judgment is nonetheless interesting from a legal standpoint on account of the actual situation under analysis: it seems that an artist's creative freedom to continue to produce works with the same style, technique and theme has been curbed after he assigned all of his economic rights in many of his works. The defendant's argument is precisely this: how can an established artist get rid of professional baggage that he has accumulated over a period of almost 30 years?  In this case, that argument did not work, since the issue is not limited to style but concerns self-plagiarism of individual works.
Either way, it seems that this game of flea, cat and mouse has only just begun…
To make sure you do not miss out on posts from the Kluwer Copyright Blog, please subscribe to the blog here. A full report of this case has been published on Kluwer IP Law