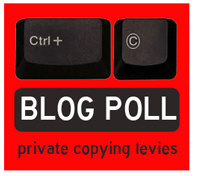 May we have your votes please?  We are about to close the our opinion poll on private copying levies and would like to ask the last floating voters to make up their minds, to urge the procrastinating voters to just do it already and to kindly ask everybody else who hasn't voted yet to spare us a few minutes and give us their esteemed opinion on the subject.
Private copying levies benefit all parties concerned, according to the European Parliament. But do they really? Does the internal market require a harmonised private copying system? Who should pay the levies, manufacturers, importers or retailers? Should anti-piracy campaigns be replaced with 'positive' campaigns? Should the system of private copying levies be made more flexible, or has it become obsolete and should be replaced by a general copyright tax or a licensing system? Or is the system of private copying levies is the worst form of fair remuneration, except for all those other forms that have been tried from time to time?
You will find 8 statements below and in the right column of this site (you don't have to answer all of them of course).
If you want, you can attach your name to your survey answers. If you want the result to be anonymous, just leave out your name and email address. If you have additional comments, you can either mail them to us or leave them in the comment section under this blogpost.
[SURVEYS 3]
_____________________________
To make sure you do not miss out on regular updates from the Kluwer Copyright Blog, please subscribe here.
Kluwer IP Law
The 2022 Future Ready Lawyer survey showed that 79% of lawyers think that the importance of legal technology will increase for next year. With Kluwer IP Law you can navigate the increasingly global practice of IP law with specialized, local and cross-border information and tools from every preferred location. Are you, as an IP professional, ready for the future?

Learn how Kluwer IP Law can support you.