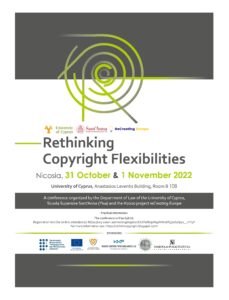 On 31 October and 1 November 2022, the Department of Law of the University of Cyprus, together with Scuola Superiore Sant'Anna (Pisa) and the H2020 project reCreating Europe will host the conference "Rethinking copyright flexibilities". The event aims to critically discuss the present and future of copyright flexibilities in EU copyright law. It explores their types, forms, limits, dynamics and perspectives, among others in light of the most recent interventions of the EU legislators and landmark decisions of the Court of Justice of the EU, and debates the opportunities and need for legislative reform.
Day 1 will feature three panels and one roundtable. The panels will focus on "Copyright exceptions, limitations and limits: in progress or in danger?" (Janssen, Rosati, Dreier, Jutte, Bently, Aplin, and Senftleben), "Private regulatory sources and actors" (Fischman Afori, Mezei, and Schwemer) and "New paradigms for copyright flexibilities (Pascault, Sappa, Jougleux, Flynn, Schirru, Palmedo, Izquierdo, and O'Sullivan), while the roundtable, entitled "Towards a new equilibrium in EU copyright law? Perspective from policy makers, the judiciary and stakeholders" will see the participation of Marco Giorello, Head of the Copyright Unit at the DG CNCT of the European Commission, Maciej Szpunar, First Advocate General of the Court of Justice of the EU, and Marc du Molin, Secretary General, European Composer and Songwriter Alliance (ECSA).
The second day will be devoted to exclusive rights and their flexibilities (Oprysk, Revolidis, and Frigeri), the role of platforms (Margoni, Quintais, Schwemer, Vrakas, and Iramina), the evolution of the EU acquis (Papadopoulou, Lazarova, Homar, Rosborough, Rekas, Tamis, Damjan, and Marusic), and "Creativity between copyright flexibilities and contract" (Leska, Zahradka, Meletti, van Gompel, Jenkins, Trapova, and Drury).
For more information on program and venue, visit https://rethinkcopyright.blogspot.com/.
The online registration form can be found here.
_____________________________
To make sure you do not miss out on regular updates from the Kluwer Copyright Blog, please subscribe here.
Kluwer IP Law
The 2022 Future Ready Lawyer survey showed that 79% of lawyers think that the importance of legal technology will increase for next year. With Kluwer IP Law you can navigate the increasingly global practice of IP law with specialized, local and cross-border information and tools from every preferred location. Are you, as an IP professional, ready for the future?

Learn how Kluwer IP Law can support you.